WYHK 2013 Annual Concert Concert Wind Band
Wah Yan College Hong Kong Concert Wind Band was formed in early part of the millenium and has been led by Mr. Fong To since 2005. Its is now advised by Mr. Mark Loh. Current member include students from Form 1 to Form 5.

This year, Concert Wind Band had an opportunity to conduct an exchange with Stonyhurst College from the UK, which has inspired our band members, and shared with us many different techniques in terms of improvisation. The highlight from this exchange was an open air concert at Times Square. In addition, they gained a respectable Merit in this year's 65th HK Schools Music Festival. Other notable performances this year include invitation to exchanges with Diocesan Boys' School and invitation to play for the Southern District Board for a variety show.

Currently, the Concert Wind Band is now focusing more on the cultivation of personal attitude of its member with a view that good music can only be made with the development of the self-discipline of members and creating a better bonding between members.
Date of Annual Concert
16th July, 2013
language
bilingual - English, 廣東話
Embed Code:
This video is released under the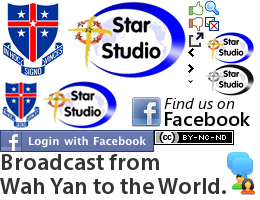 license.
MPEG-4 [H.264/AVC] (.mp4, 640 X 480)